How a Hosted Desktop can Benefit Accountants
Juggling time between client premises, your office and working at home can be difficult, but often necessary as an accountant. Frequently, accountancy teams have to sacrifice certain tasks at times because they have not got the right application, software or file to hand. This can be incredibly disruptive for everyone involved and can significantly hinder your productivity.
A way to overcome an annoyance like this is to switch to a hosted desktop solution.
Hosted desktops, for you and your team, give your business a dynamic edge. All of the necessary applications are available – such as Sage, Payroll and Intuit Quickbooks. Data is stored, so you and your team can access data and applications at anytime, anywhere. Whether there is a problem at your office, you are based at a client's site or need to work from home, you can do all of the same tasks with ease and the right application to hand.
The Benefits of a Hosted Desktop for Accountants
As well as making it easy to work from anywhere at any time, hosted desktops also give specific benefits for accountants too. These can include;
Real-time sharing with teams
Does your team struggle with having to wait for information? Perhaps your bookkeepers are always waiting for the accountants to exit a data file? With a hosted desktop, all of your team can access the live data wherever they are. If your business has separate offices or different working patterns, then a hosted desktop allows everyone to access real-time data, so they can complete their work without waiting.
Real-time sharing with customers
This real-time sharing is also incredibly useful for clients too. With real-time sharing, clients can see their projections and the work that the accountant has done. This means that they have a better overview of their business, making them overall much more dynamic and responsive. This can help firms to be much more successful by making changes quickly, rather than waiting for the end-of-year review.
Security
With no data or applications held on your computer, you instantly increase the security of your firm. In the event that your PC suffers a meltdown, there is no need to panic as you won't lose any files. Instead, your work is still in the desktop application, and data is stored safely in the cloud. For further peace of mind, Desktop on Demand makes sure that our data centres comply and are certified to ISO27001 for Information Security Management. So, you can trust us to look after your data.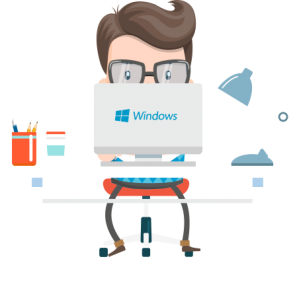 Legacy applications
Struggling to get to grips with the latest version of a particular accountancy software? With a hosted desktop, you do not have to comply with the most recent software version which usually cost through expensive subscription charges. Instead, you can run the software you want including legacy applications and still benefit from data being stored in the cloud, and you can access the application wherever you want on any device that you see fit.
Support all of your applications
Most accountants use a range of different industry apps every single day. At Desktop on Demand, we make sure that our hosted desktops support most of the applications that accountants need from Quill, DocuSoft, Keytime, CCH and Logical Office – as well as many more. With one convenient solution, you can have all of the applications you need wherever you need them.
Get started with a hosted desktop
For convenient anytime access, reduced business costs, reliable business continuity and safer security, is it time your accountancy practice switched to a hosted desktop solution? At Desktop on Demand, we invite you to see the benefits for yourself, with a free, live 24-hour demo. Access your free trial today.
Have any questions? We're happy to help, send your queries to [email protected]