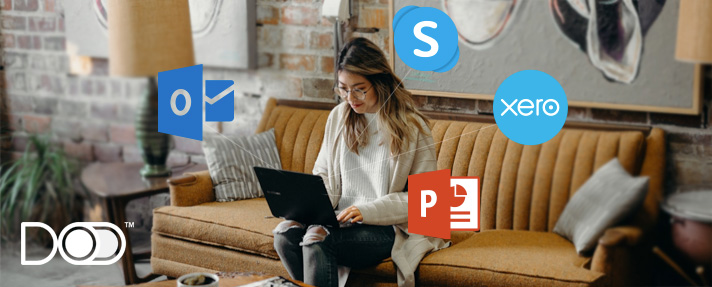 Coronavirus: hosted desktops will help employees work from home.
As the Coronavirus continues to spread across Europe, the Middle East, Asia and the US, many companies are encouraging remote working as a precautionary measure against the rapidly-spreading virus. The UK government's chief medical adviser, Prof Chris Whitty has said people who show "even minor" signs of respiratory tract infections or fever will soon be told to self-isolate.
Many businesses are now asking how can employees effectively work from home when they are away from the office environment? How can we continue to serve our customers and run our business with so many employees away from their desks?
There is no doubt that the Coronavirus will spark a revolution in home working and we believe at Desktop On Demand, we have the perfect solution. Your desktop is hosted and managed in the cloud, empowering employees to work remotely from anywhere, at any time and on any device.
A Hosted Desktop by Desktop On Demand will mobilise your workforce and unchain them from the office desk, allowing your business to operate as normal and for your employees to access company data and apps, right from their home. With our dedicated switching team, we'll ensure your ride up into the clouds is smooth and hassle-free.
Try the Demo
Register here and we'll get in touch to show you how easy it is to work from home.
Register Demo
Not only will a hosted desktop allow your workforce to work remotely, but it will also bring a host of other benefits to your business too.
FLEXIBLE WORKING
Your desktop is hosted and managed in the cloud, which allows you to access your desktop from anywhere, any time and on any device.
SECURITY
World-class UK data centres managed by an ISO27001 certified support team
REAL-TIME REPORTING
Real-time reporting will allow you to schedule reports on employee usage, downtime and monitor the performance of your team
BETTER CASH FLOW
Consolidate your IT costs by removing the need for expensive servers and existing costs associated with IT, such as Hardware, Support, Anti-Virus, Back-ups, Licensing and Software Updates.
GREEN TECHNOLOGY
 Moving your business to a hosted desktop solution will reduce the need for servers and hardware.
ROCK SOLID RELIABILITY
Our multiple UK data centres operate a fail-safe backup system. So in the unlikely event of a data centre failure, you can be sure that your data is safeguarded and there is minimal interruption to your business.
SPACE SAVING
Hosted Desktop solutions will reduce the need for large on-site servers and other hardware, such as desktop PC's. Ultimately, this will free-up vital desk and floor space and minimise the need to find extra office space.
Please note this article is not intended to provide any medical information or guidance on the Coronavirus (COVID 19) and is intended for marketing purposes only. For information on the coronavirus, please visit: https://www.nhs.uk/conditions/coronavirus-covid-19/