How to work from home: productively
With the spread of the novel coronavirus COVID-19 affecting our daily lives, from international travel to scrummaging for loo roll in the aisle of the supermarket; the UK Government have published guidance for businesses to encourage home working, wherever possible, to help slow the spread of the virus. Here at ilicomm Technology, we have been helping businesses mobilise their workforce for many years, allowing employees to carry out their work tasks from anywhere, at any time.
We've put together a few tips on how to remain productive and what you may need to work from home.
Let's make sure you have what you need to work remotely.
A Dedicated Workspace, just for you!
If you are new to home working, one of the most important things to remember is staying focused – on task. Catching up with nine episodes of the latest Netflix boxset or ploughing through the mound of last weeks ironing may seem more tempting than writing that report; abstaining from home tasks is key to remaining productive. One way to combat this is having a dedicated area that will help to mentally prepare you for the day ahead. Dedicate a specific room or surface in your home to work, somewhere that you don't associate with leisure time, such as your sofa in the living room. This is a place you go specifically to work – maybe a small table in a room, some area that is consistently your workspace. This will help you to focus and remain in the right frame of mind.
Pretend you are going into the office and routine your day the same way.
Mentally prepare your day to help with productivity by working through the same routine in the morning and during the day. Set the alarm, grab that coffee and breakfast, dress for success (get out of the PJ's!). Start work at the same time and be sure to take breaks and eat lunch away from your dedicated workspace. Just as you start your day with a routine, create a habit that signals the close of the workday. This isn't to ensure you finish on the dot, but to ensure your work doesn't creep late into the evening – that 10pm email can wait until the morning. A planned routine will help.
Use tech to stay connected with colleagues.
Working from home can be a lonely affair and make you feel cut off from the larger operation happening in the office space. Make sure you have the right tools (see below) and tech to ensure you are seeing people via video conferencing or staying in touch by instant messaging. This will help you to easily check-in with your colleagues and give you a gentle reminder that you contributing to the wider business – regardless of where you are.
Get ready to boss the day with the right tools.
Take advantage of that pin-sharp focus and arm yourself with the right tools. Using the latest cloud technology and solutions will enable you to work seamlessly, challenging even the most productive of office co-workers!
We've lined up a few of the key solutions that we believe will help you reach greatness in the world of remote working. 
Laptop
Let's start with the most obvious, a laptop! Unless you work demands a high-spec laptop, the need to max-out the spec isn't entirely necessary for most office activities. For home working, we would suggest this baseline specification, with a built-in WebCam ( Video Conferencing)
Home Working Laptop Spec
i3 8th-gen or AMD Ryzen 5 3000

 8 Gb RAM

256 SSD Storage

Webcam – built-in or external.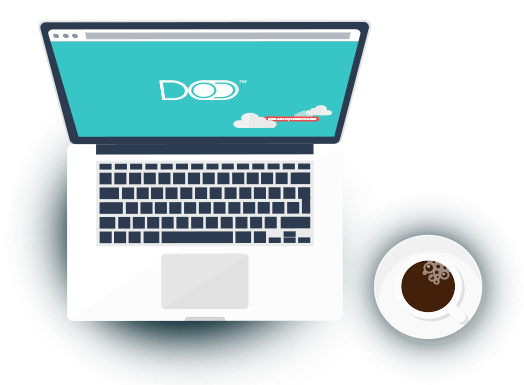 Hosted Desktop
A Hosted Desktop will allow you to work seamlessly, providing access to your desktop, company data and apps – as if you were sitting in the office, next to Janice.
A Hosted Desktop by Desktop On Demand (AKA: DOD) is very similar to your normal desktop, but instead of all of your data and applications being stored on your physical PC or laptop, everything is moved on to secure UK data centres (also commonly referred to as the cloud) – thus allowing you to work from anywhere (such as your home). No more worrying about backups, or data loss, or costly hardware upgrades; Desktop on Demand takes care of everything and goes together like Copy & Paste – (Ctrl C + Ctrl V).
VoIP Phone Solution
Voice over Internet Protocol (VoIP), which is also referred to as Internet Telephony allows you to make FREE, or very low costs telephone calls over the internet. VoIP boasts major advantages over traditional phone systems, so it's worth considering VoIP for your business. 
Answer calls from home – Redirect any call from the UK or International phone number to a mobile phone or PC. Take your office number with you!
Conduct meetings right from the comfort of your home with Unified Communications. Live messaging, Share your desktop screen and Audio & Visual conferencing.
Voicemail to email – if you are unable to answer a call and a customer leaves a voicemail, an email will be automatically sent to your inbox!
VoIP Phone Solutions
Broadband
To support cloud computing, VoIP phone solutions and video conferencing, we would recommend a robust connection, such as a Fibre Line (FTTC) with a minimum download speed of 80Mbps and an upload speed of 20Mbps.
Enterprise-grade connectivity
ilicomm Technology specialise in supplying enterprise-grade connectivity for every type of business, at a competitive price point. Find out more about home connectivity and get in touch for advice on the most suitable connection type for your home working activities.